Alpha's XX's and OO's, TDI, MT-3, MT-2, SAR

                              Ch. Wolfsheim's Happy Go Lucky × Ch. Alpha's Kiss Me Quick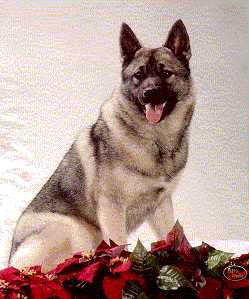 This is
Alpha's XX's and OO's, TDI, SAR, MT-3, MT-2
("Zöe"). She reached 15 and a half years old, but she lost her energy and her will to go on. We knew she had reached the end of the line when she couldn't eat her breakfast. Zöe NEVER missed a meal, even when she was sick, so we finally had to have her put down on October 19. We will always miss our Zöe. She was working as a search and rescue dog with her pack-mates Daisy and Bob, but she had to retire from that endeavour when she was injured in a fall from the car a couple of years ago. She has 4 points and one major toward her AKC championship (by the age of 7 months), but she was retired from conformation competition when she developed a health problem. She was working as a therapy dog until her mom had to quit, and she was actively working in
Search & Rescue
. She went into the "Gracie" style of retirement (she went to some of the practices, and most of the public appearances, but she stopped doing actual searches). She was quite the tracker, though! And she won the Proper Pooch contest the week after her "sister" Gracie won it, too! She was also an excellent therapy dog, living up to her SANCTUM legacy.
Zöe went on her first vacation last year, and she did great! She was quiet, and that's amazing....she was was usually very noisy, so good girl, Zöe! And both girls got along fine. Yay, Zöe and Daisy! It was quite a memorable vacation.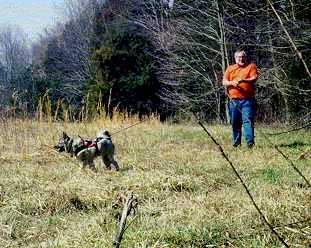 Ed and Zöe on the trail during a SAR training exercise

Christmas photo ©1997 Paul's Studio, tracking photo ©1998 BSARD, text ©2000-2016 donna j.

(February 6, 1996-October 19, 2011)