Ch. Foxboro Because of You

  AKC Ch./GCH UKC Ch. Elvbend's The Soldier's Tear × Ch. Foxboro Party Games

June's breeder is currently  active, so e-mail me and I'll contact her for you!

Photos ©2012-2014, Text ©2016

Well, June's here now, and she's cute as a button. Her mom's gorgeous, and her dad's a pretty good-looking guy too, so she ought to be pretty adorable. What do you think?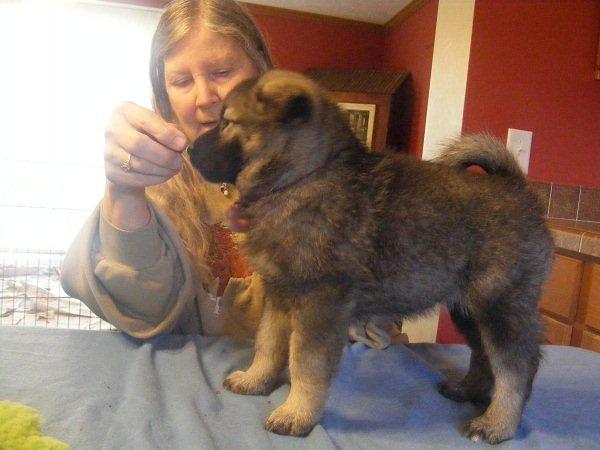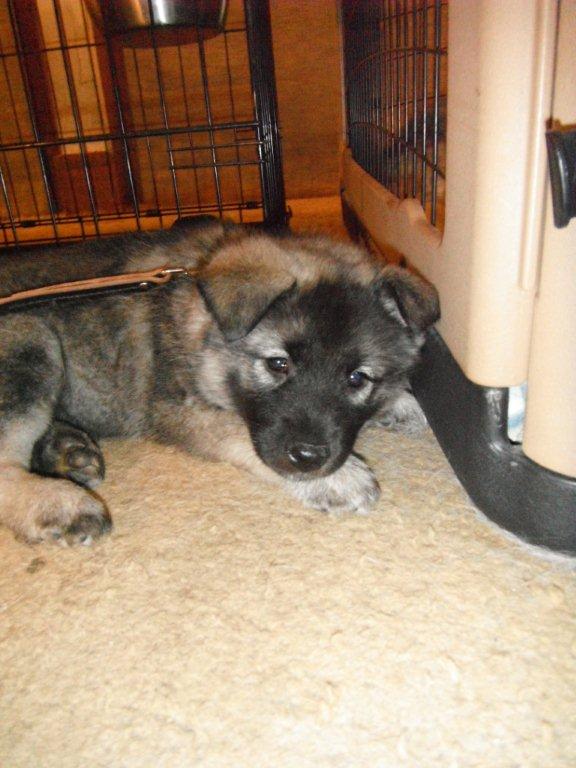 Pretty even when she's sleepy, isn't she? I think she's gonna be a heartbreaker!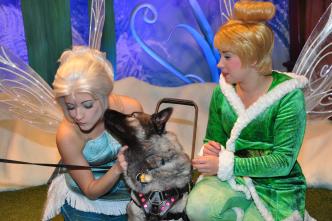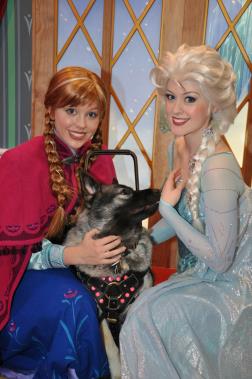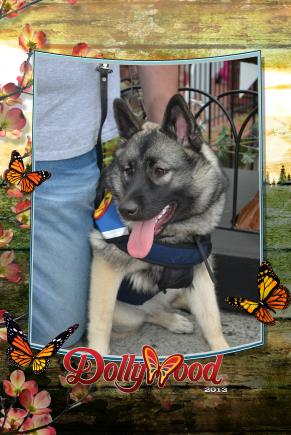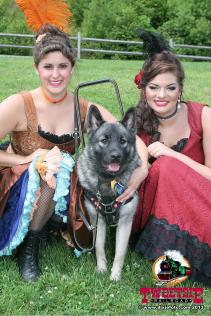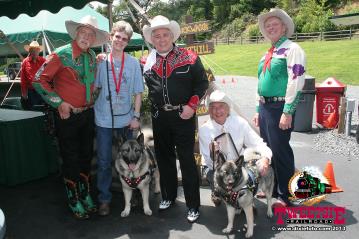 She also discovered Anna and Elsa when she got to Norway in EPCOT.

Well, she discovered that she loves Periwinkle when she went to Disney World this year.

Meeting her Mom's favorite cowboys was a nice addition too!

She poses nicely when we go to Dollywood, too!

She liked meeting pretty dancing girls at Tweetsie Raiload Park this summer!

June has also gotten her career as my service dog off to a fine start. Her sister April unfortunately came into season THE DAY we started our Disney World trip this year, so she was sidelined for the entire trip. June had just finished her season when we left, so she got to start this year ahead of when we thought she would. She did really well. June went on her first rides, saw the Halloween parade that was lead by the Headless Horseman, and went to a villains' desert party. The most impressive fact that we learned was that she is NOT intimidated by fireworks! She just sat there and watched. She was not worried at all like Bob was. She was great with fireworks! Yay, June!

However, she does have her own things we have to work on. She did NOT like getting on to or off of the monorail. She was really worried about it when she was off my lap. So we made a change. When we got on or off a monorail, Ed placed her in my lap in the wheelchair. Then she was okay with it. No problems there! But she also has decided to be my guard dog. She listens very carefully for every sound, and when she hears something she doesn't like, she feels like she has to bark a warning. She was really worried when she was just sitting somewhere like the First Aid station where we went every day to drop off her inserts for her cool-down vest. She listened very carefully, and she felt like she had to warn us everytime ANYONE walked into or past the room where we were waiting. But she was great in shows like Mickey's Philharmagic and in the Hall of Presidents. So we have some work to do with her, but she did incredibly great for her first trip to Disney World where she worked with me! She'll improve and we'll have a great time with her!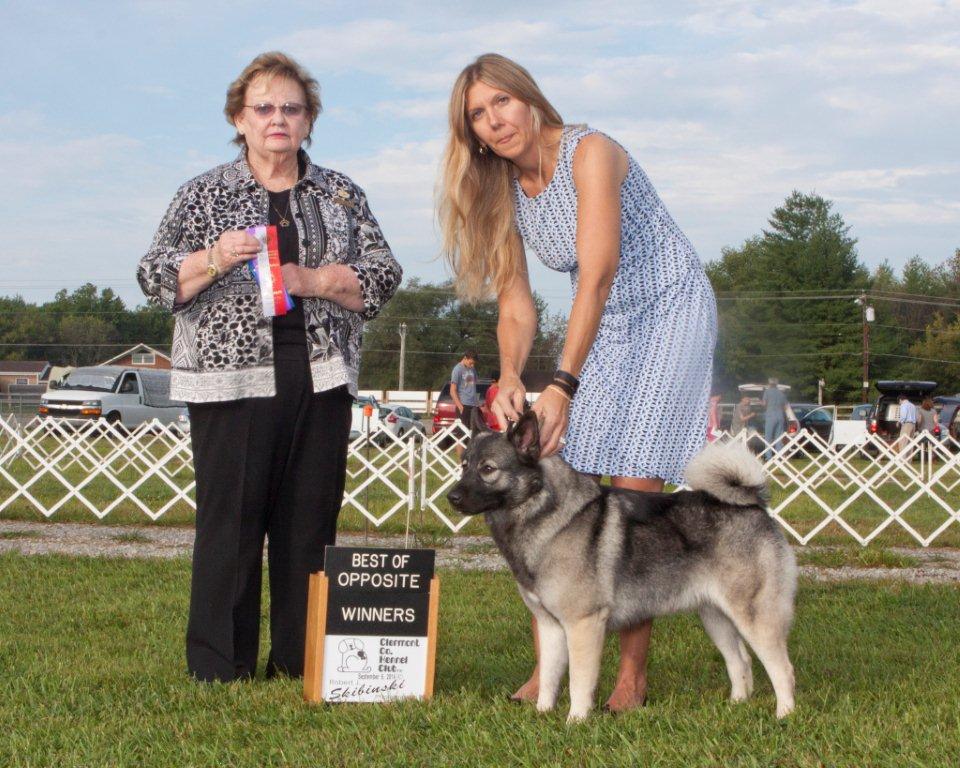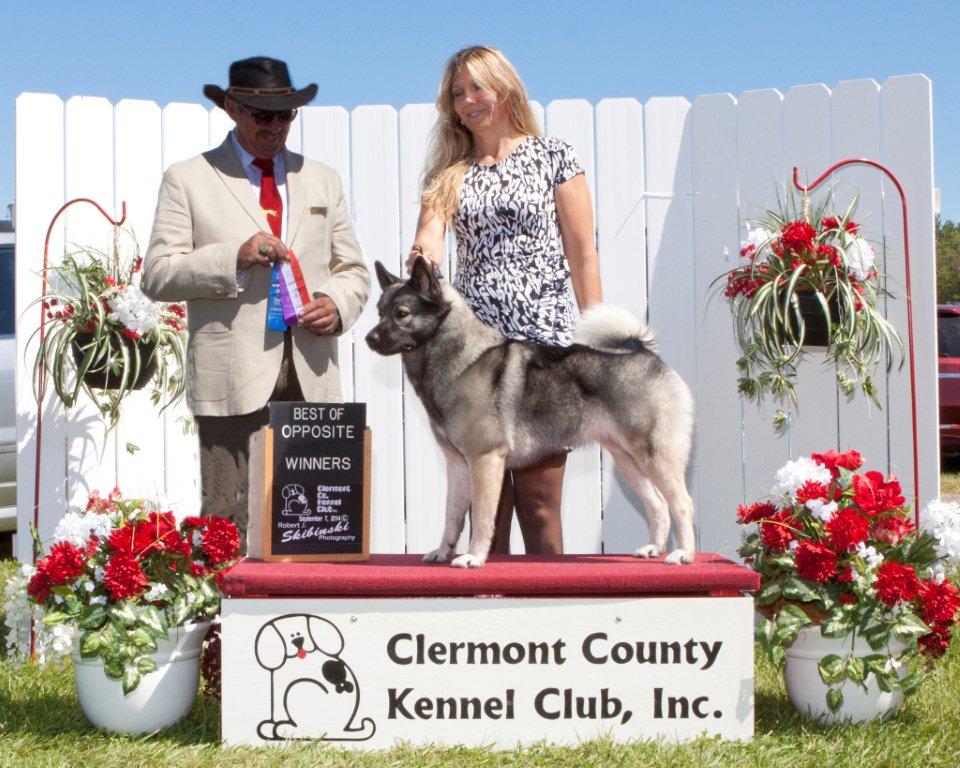 Well, June has finally gotten her show career started, and it started with a little bang. She won the last four shows she entered. They were very small, only one point for each show, but she's on her way to the big 15 that she needs! Way to go, June! Here's hoping your next show will be as good!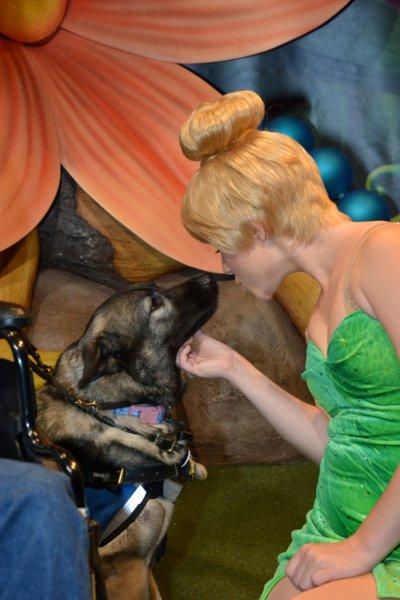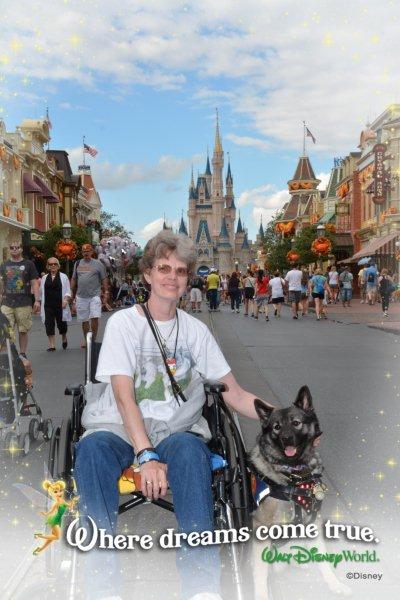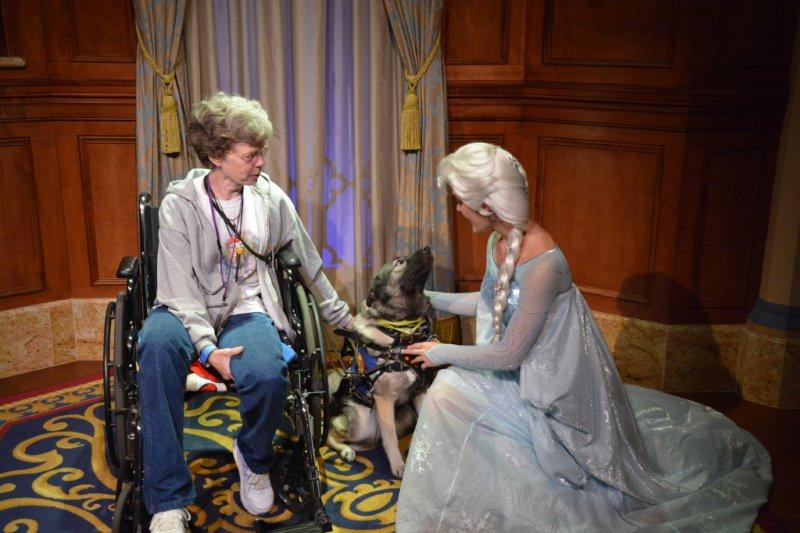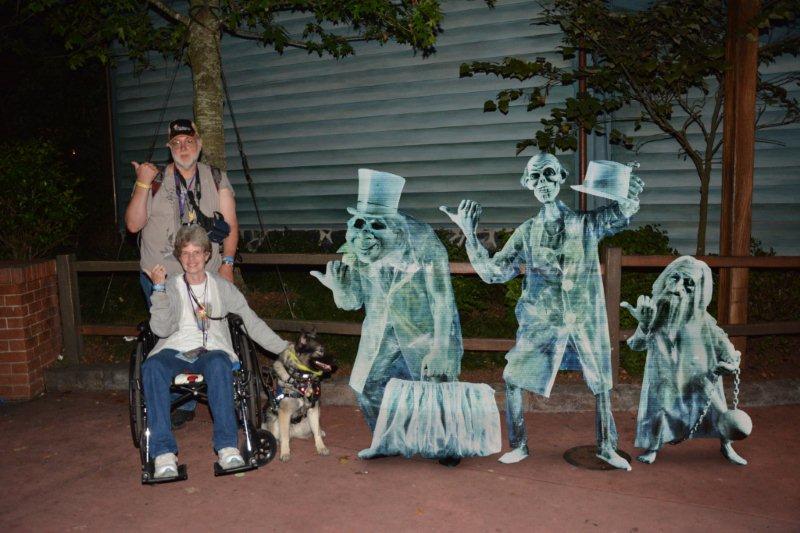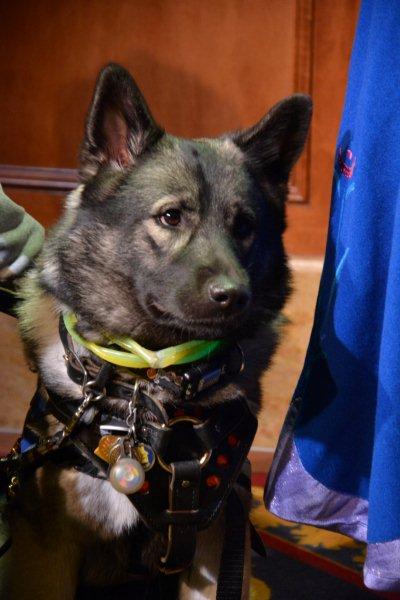 Well, June got her fifth point today! She's doing very well, but people keep staying away. She was supposed to have at least two points available today, and most of the girls and at least one of the boys I think stayed away, so she only had one point available. But she got it, by golly! I hope more show up tomorrow, but as cold as it is, I'm surprised that anybody's there. Keep your fingers crossed for her tomorrow! But she did get one point today!

Well, tomorrow is here, and June has yet another point! She won again today going WB, BOW, and BOS again. That's the same as yesterday, and most of the time she's been showing! Now all we have to do is find shows that offer more than one point! I'm sure she's going to keep doing this well even when there is more competition. Yay, June! We'll find bigger shows for you soon! But we're up to 6 points now, I think. Here's looking for bigger shows!

Well, tomorrow's here now, and guess what? June's won ANOTHER single point! Up to 8 points now. Eight single points... Ed's getting tired of spending all of his weekends driving June to her shows, but she's won yet another one. I hope the Louisville shows have multiple points this year. We'll see you there!

Well, another couple of weekends have come and gone, and June has her 9th and 10th points now. We're still looking for the competion, but we're here and waiting for it. I hope we find it soon. We need the points now. Hopefully we have a weekend coming up soon that will be majors. Keep your fingers crossed for us!

The next show weekend has come and gone, and she's got another win under her belt! She went reserve yesterday, but she won today! That's four more points for her now! And she went Best of Opposite today too! Now she's got the first major out of the way. Way to go, June! I hope she can take a major next week. Keep your fingers crossed for her! Total point count is now 14 but she does need at least at least three more points because she DOES need another major. But she's got the first one now!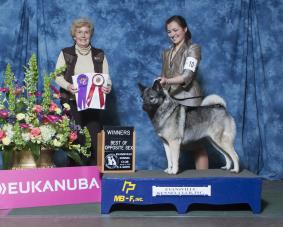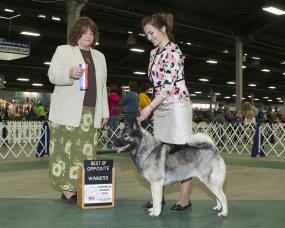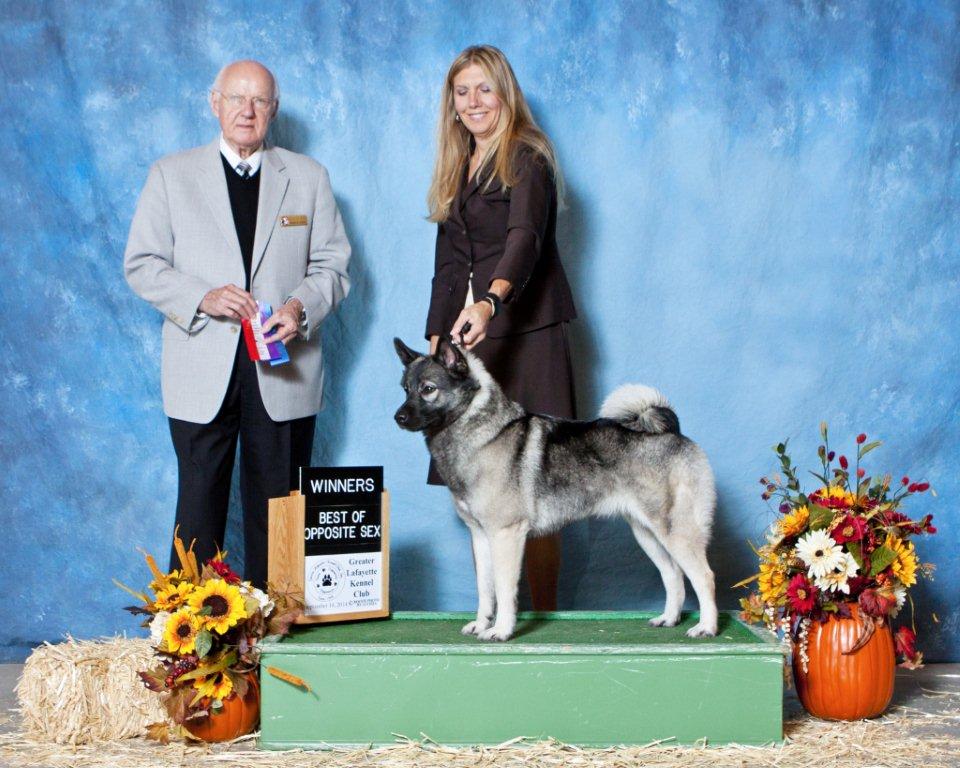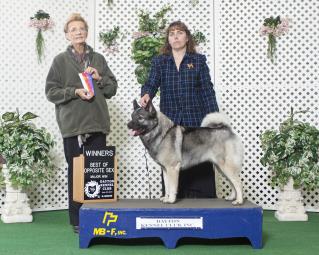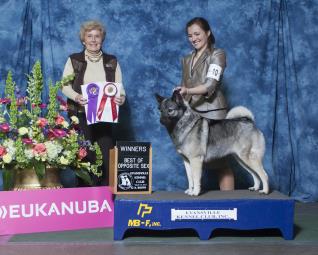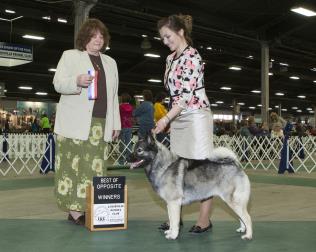 We have a couple more pictures to add of June. Well, the news is now in. JUNE'S FINISHED! She got two more majors, one four-point and one three-point. (I just added the Evansville picture again 'cause it's so good!)