Alpha's Heavenly Days, TDI, SAR

         Ch. Alpha's Cooperative Effort × Ch. Ashlawn's Bianca Divan, RM

                                  (June 23, 2001-November 6, 2011)

This is Alpha's Heavenly Days, TDI, SAR ("Daisy"). She was a young lady who was always in training for her CD (she'd have gotten it if I could have ever gotten her to the shows!), she was registered as a therapy dog (she used to work at a couple of local nursing homes, but when I had to quit driving, she had to retire!), and she did search & rescue work like Gracie and Zöe. She had a lot of potential and a lot of ability, and we tried very hard to live up to what she expected from us!

Daisy's breeder has finally retired, but we do stay in contact.                                  and I'll let you know who she is and how to contact her!

Daisy earned her first title to become Alpha's Heavenly Days, TDI! She became a working Therapy Dog! That was the first thing I ever trained her to do. She stayed in training for her CD (that's Companion Dog) her whole life, but I had to put that activity kind of on hold because I couldn't drive her to her to training or competitions. I couldn't drive her to her therapy visits either, so she had to retire from her therapy work too, though she did an EXCELLENT job at it while she was active. But she proved to be a great search dog. When she also made her first "find" in a real Search and Rescue situation, she became Daisy, TDI, SAR. She really did great! She was a very special little lady. She won the Howl 'o Ween contest a few years ago too. We dressed her as a pirate. She didn't like that, but she made me happy...

She also started her greatest adventure working as my service dog. She did an excellent job for me when we lost Gracie very suddenly in 2006. She had to start working as my service dog at doctor visits, on trips to the Disney theme parks, to Pine Mountain State Park in Kentucky, and Sapphire Valley, North Carolina, She also took me downtown to see The Lion King and she was a perfect little girl. Then she went with me to Louisville for Easter. She took me to Louisville for many visits, and she became a welcome guest at grandma's house (quite an accomplishment for ANY dog, lemme tell ya!).

She did great on all her visits to Disney World. She was a little noisy in the hotel rooms in the beginning, but she did great overall. She wasn't afraid at the hotels or on the rides (Pirates of the Caribbean was her favorite), and she did great in the Haunted Mansion. She also rode Ellen's Energy Adventure and the "it's a small world" ride, although she never discovered what Gracie found so interesting about that one, but if Mama wanted to ride it, she always was always willing to take me! She met all of the princess characters and many of the head characters like Chip 'n Dale, Goofy, and Clarabelle Cow, and she was very good the whole time she was there that first visit. I really started looking forward to our Disney trips!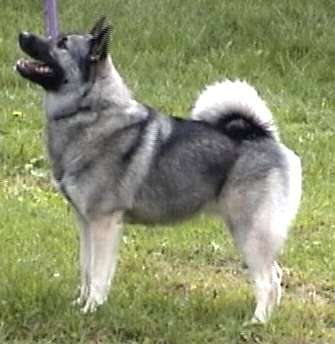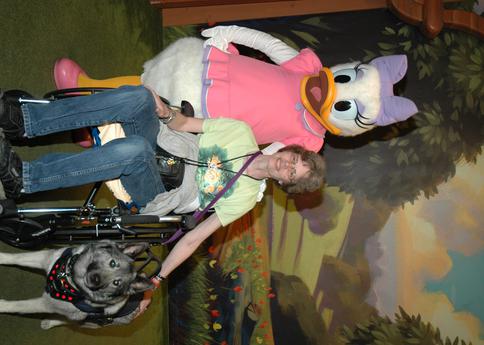 And on top of all the Walt Disney World news, she also had yet another find in her search work! She did good again!

Well, she went on her second trip to WDW, and this trip was every bit as good as the first one. We got many pictures and we had a blast. We go back nearly every year. The only thing that is better than a Disney park is an elkhound specialty! We planned on going back in November, but it didn't work out that way.  We ran into a little trouble at the vet's office...

The fall trip didn't turn out like we had planned. We took both girls to the vet for their "before vacation" check up, and Zöe fell back out of the car when she jumped in. She hurt her back and started limping very badly on her left side. She went to many specialists over the years, but she never really recovered from that fall.

Zöe got much better, but she's no longer with us anymore. She passed away a few days ago. It's still hard to believe, but I know she's better now. She's in God's hands, and there's no better place to be. We'll be there someday I hope. We love you Zöe, and we always will. Save us a place.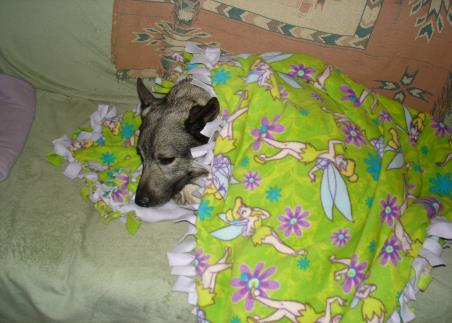 Daisy started a new endeavour. Ed began training her to scent when his blood sugar level changed. She learned fairly quickly, but we always had another dog who could do that for Ed, so she never had to fall into that position like she did for me. Just another thing she learned (very well!) but never had to do...

Daisy got over a bad case of Poison Ivy too! What? Dogs can't get poison ivy? I beg to differ! She itched like a banshee for about two weeks, but eventually it was all gone and she healed up nicely. She got it while she was on a search. We decided to bathe her when we got her home. BIG MISTAKE! And Ed was very careful to scrub her very hard. That took all the poison ivy stuff through her coat and onto her skin! Well, she got much better, but I swore I'd never have her bathed again when she got home from a search! Moms and Dads aren't perfect, I guess, but we do learn, so it never happened again!

Well, Daisy also took me to Louisville for a week for a little vacation. She got to stay at my folks' house and everything, and she was an angel while she was there. While there, we got to visit with a very good friend who was visiting from Costa Rica (two nights!), and we even walked around the block every day that it wasn't too suffocatingly hot to breathe outside. It was a very nice vacation. I'd like to do it again, but Mom's not used to having a dog that sheds like an elkhound does around her house! She also doesn't understand about how elkhounds are convinced that they are starving to death no matter how much they get to eat! She's convinced that I was trying to starve Daisy (she was actually a couple pounds overweight!). Oh, well. We did have a great time!  I missed Ed an awful lot, but other than that, it was a great vacation!

Well, Daisy went back to Walt Disney World again, but this time there was a little difference. We noticed a small black spot on the back of her neck about a week before we were going to leave. We didn't like it and neither did the vet, so about a week before we left for WDW, the vet scheduled her for surgery. He operated on her and it left a huge scar across the back of her neck. We had a biopsy done, and the mass turned out to be benign (hooray!) but she was in poor shape to be going to Disney World. Not to worry, Bob was there! We'd ALL go to DIsney World, but while Daisy would stay back at the house we rented and keep Zoe company, Bob would do all the work! I wasn't sure how that would go over with Daisy, but he needs to learn how to be my service dog sometime, so we decided to go ahead and get him started now.  And he actually did a good job! Yay, Bob! Daisy wasn't too happy to have to stay at the house we rented the whole time, but she had to learn too. We all had a great experience: Zoe got to go to Disney World for once, Daisy got to rest a little, and Bob did a great job. We did forget one thing though. It was Spring Break when we went down, so it was so crowded we couldn't breathe! This will be the last time we go during Spring Break! But we got there safely, Zoe did great without having to go to a kennel, Daisy got time to heal and get better (although she did go on a horse-drawn carriage ride one day. That was quite a treat for her!), and Bob learned about all the things he'd be doing later on for me. He did really well! All in all, it was a good vacation. My mom and dad were with us for part of the time, and our very dear friends Lee and Carol were also down there with us for a little while too. Lee managed to give all the guys an official massage while they were there. They loved that. So it was a very nice vacation. I can't wait to go back, but I hope we don't have quite the trouble we had this time!

Good Job, Daisy!

Daisy was at a search training seminar, and Ed called home to tell me that she passed her evaluation! WHOOPEE! She became a certified man tracker! She'd been tracking people for many years, but now she could OFFICIALLY called a "tracker." Bob was there too, but his news wasn't as good. He didn't pass his test...but Ed TOLD the evaluators to flunk him because Bob was upset that they had the temerity to test Daisy BEFORE they tested him. Well, they flunked him like Ed said, and then Bob ran an excellent trail. He would have passed the test if he had done it when the evaluators were testing him and not after they flunked him. Oh, well, he can try again later because his previous evaluations don't expire for a while. Evidently Bob didn't like sharing his attention! But Daisy DID pass! Hooray!

Initial photo ©2001 Sue Hamilton, WDW photo ©2008 donna j., and text ©2008-2016 donna j.